ROLAND ALPHONSO
(The King of Sax)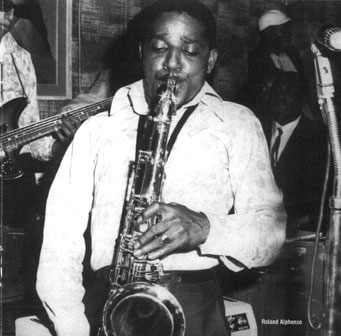 Of all the personalities of Jamaican Ska music that I had the honor to meet, Roland Alphonso is certainly the one who made me experience the strongest emotion. Roland was a warm person with a gentle look. He looked much more younger than he really was. To me, despite the smooth appearance, he seemed to spread a strong vital energy. Some kind of mahatma, I would say. No, I'm not joking, but I'm positive that whoever out of all the important personalities I might happen to meet in the future, no one will impress me as the "Chief Musician" did.
He was born in Cuba in 1931. As a child, his mother brought him to Jamaica, in the St. Ann Region, and after a few years they moved to Kingston.
In spite of what we can read on the sleeve notes of many records or even in voluminous books such as the Guinness "Who's who of Reggae" (ed. Colin Larkin, UK 1994), Roland never went to the famous Alpha Catholic School but, according to Brian Keyo from the Skatalites web site, to the Stony Hill Industrial School. Here he received his first musical education. In 1948, at the early age of 17, he left school in order to play in the famous Eric Dean's orchestra. To Roland, the Eric Deans Orchestra is only going to be first out of many bands where he gave his contribution as a "section" musician as well as soloist, arranger, composer. He departed the band after only six months to join Redver Cooke's loose aggregation at a hotel in Montego Bay in the summer of 1948; so followed artistic contributions with musicians of the likes of Roy Coburn, Sonny Bradshaw, Baba Motta, and the legendary saxophonist Val Bennett.
Around 1952/53 Rolando cuts his first music, and that happens with a hotel band, either the Myrtle Bank or the Tower Islanders. Roland was playing with pioneering producer and Stanley Motta's younger brother, Baba Motta who also was pianist and bandleader at the Myrtle Bank. Motta liked Roland so much that he decided to use him in the sessions for calypso and mento records by Lord Flea.
Established as a well-known musician, Roland is asked by young Mr. Dodd to record a few sessions to create what he wants to become the new Jamaican sound and in 1956 he begins recording for Coxson Dodd.
It's 1957 and the dawn of the Jamaican phonographic industry. Dodd already owns a rampant Sound System and has got enough money to produce the recordings of new discs which will be released as 45rpm 7 inches for the public and later on, in the early sixties, put on compilation albums.
One of the first recordings by Ronald Alphonso for Dodd was "Four Corners" (one can find it in Ska Authentic vol.1; Studio One), a "Shuffle" song, in the proto-Ska style that is nothing but pure Rhythm and Blues; Rolando's companions in this adventure could be no other but the members of the most popular formations of the time: The Blues Blasters, with the double bass player Cluet "Clue J" Johnson, guitarist Ernest "Erni" Ranglin, the almighty Aubrey Adams on piano, and with a few great drummers of the likes of the too underrated Arkland "Drumbago" Parks and Ken Williams.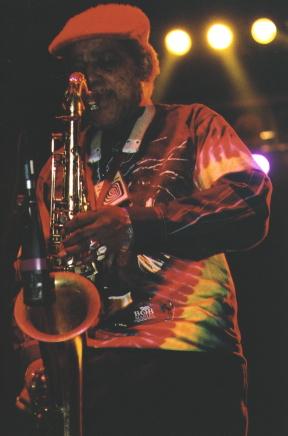 Rolando takes part in almost all the recording sessions between 1956 and 1959. And not just for Dodd under his labels such as All Stars, Coxsone, Muzic City and Rolando & Powie (managed by Alphonso himself), but also for Duke Reid and his Duke Reid's label then later on named "Duchess Label" and finally "Treasure Island", Vincent Chin, King Edward, and Lloyd the Matador, for whom he recorded in 1960 his composition "Bridgeview Shuffle", and, as part of the Matador All Stars, "Continental Shuffle" and "Heart and Soul", two amazing duets between Alphonso and respectively Emanuel "Rico" Rodriguez, and forgotten trumpeter Raymond Harper. Those pieces are still considered amongst the best shuffle tracks ever recorded.
In these days, we find our saxophonist in "Easy Snapping", which is, if not the first Ska song ever, the first recording we are aware of from the post-mento period. It's been said that Rolando also appeared in the song "Shuffling Jug", also considered one of the first proto-Ska songs, but a recent interview done by Brian Keyo with Mr. Dodd revealed that our man wasn't on that track. In fact it was Sammy Ismay's tenor playing on that song. Anyway, Roland also appears in almost every single instrumental version credited to Clue J & his Blues Blasters, Duke Reid's Group (the Duke's Cookies), Drumbago Allstars, Matador Allstars, etc, etc. Alphonso appears also in the horn section in the City Slickers (Audrey Adams' band) who are the "backing group" of Clancy Eccles in "River Jordan", or next to the keyboard player Cecil Lloyd in the instrumental "Ocean 11". He also proves to be an extremely good soloist in pieces such as "Blackberry Brandy", "Shocker's Hop", and in "If I were a bell", all of them recorded around the end of the fifties and the beginning of the sixties.
In the first three years of the mighty sixties, Rolando, as he used to sign, records extensively and plays live almost everywhere and for anyone. That's due to his philosophy where he never refused a concert or a recording, according and justified by the need of money, having started a family with his childhood friend Hermine.
In 1963, Laurel Aitken comes back from Great Britain to record a dozen songs with some of the most popular artists of the island, among whom was Roland. Later on, most of these musicians would have put together the first Skatalites line-up.
In this period Rolando records two jazz discs: "I cover the waterfront" and "Jazz Jamaica", respectively with trombonist Donald Drummond and with sax player Tommy Mc Cook. Those were probably the last albums recorded by Coxsone before he established the "Studio One" label around October 1963 in the famous Brentford road in Kingston and with which will mainly be connected the name of our man for the next ten years.
Alphonso was kind of the soul of the Skatalites, and after they split up due to the imprisonment of trombonist Donald Drummond, with whom Roland was a close friend, because of the murder of Don's wife, he funds the "Soul Brothers", the new "house band" of Studio One.
Here starts some kind of a mystery within the Soul Brothers story. As far as I know, the album "Ska-au-go-go" is the only one accredited to Rolando Al & the Soul Brothers. But later on appeared two more albums of the Soul Brothers: "Hot Shot" and "Carib Soul", both Studio One. There's no sign of Alphonso in any of these two records, in fact, the album covers carries pictures of a six-piece band listed this way: Bobby Ellis – trumpet and leader of the band; Jackie Mitto – piano and organ; Dennis Campbell – tenor saxophone for over 20 or more years of music; Harry Haughton – guitarist; Joe Isaacs – drummer; Bryan Atkinsons - bass. To be honest, in "Hot Shot" there's, from time to time, at least one trumpet and one sax more than what listed in the above line-up, and in "Carib Soul there's a trombone probably played by Vincent Gordon.
Those two albums seem to come out around the 1967 and 1968, and that's because the total absence of reggae style, the plenty of Ska, as well as a strong soul influence, with passages through calypso like in the rocksteady version of "Eastern Standard Time" and "Ringo". Those were probably two very commercial records for that time, but today they're keeping a very strong charm. Tho, the question is…. Where was Rolando??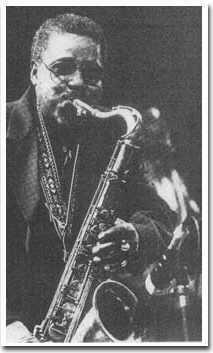 Anyway, the mystery comes to a solution, after a few investigations and the help of Mr. Brian Keyo himself. In fact, after the recording of his "Ska-au-go-go", Alphonso and his "Soul Brothers", with Lloyd Brevett on double bass, Hector "Bunny" Williams on drums, Dizzy Moore on trumpet and Mitto on piano/organ, toured the UK under the name of "Soul Vendors" and when they came back they wanted a raise by Dodd. Dodd refused and Rolando and his bros went out of studio one. The new "Soul Brothers" came in and recorded those two albums. After the UK tour Brevett quits the Vendors and is replaced by Leroy Sibbles, singer of the Heptones and by Bryan "Bassie" Atkinson. Brevett almost disappears in these days. That's because he couldn't play electric bass, and when rocksteady came in his days were numbered and lost most of his work as a session man. Other musicians started playing with Rolando. There's a young Joe Isaac, Lester Sterling and Karl Bryan on alto sax, Val Bennett on tenor, Eric Frater and often Ernest Ranglin on guitar. All these line up changes and these musicians turnover bring, from time to time, different musicians to write new compositions and consequently, to become the main composers in the Soul Brothers/Vendors. This happened with Mittoo and also with Bobby Ellis. Same thing happened with the Skatalites and with the many musicians that turned around the band.
This rule of "mobility of the personnel" varied according to demand, to who was arranging a specific session, and probably, according to Coxsone Dodd's own mood.
The album "celebration time", accredited to the Skatalites and published by Coxsone in 1986 mixed up the idea even more.
Many of the instrumental versions on this record have been arranged, and maybe even composed, by Rolando himself (But Tommy Mc Cook affirms proudly to have arranged "Peanut Vendor" on this album. And even "Cleopatra Rock" is composed, played and arranged by Tommy Mc Cook! 100%). His unmistakable style and "leading tenor" permeate the whole record and even if there's other musicians contributions on the album, like Lester Sterling's "Hot Cargo", it seems to me that this record was some kind of a "move" by Coxsone to more effectively attract a possible buyer. In fact, this record is nothing but a collection of different singles that came out in Jamaica in the mid-sixties with our man playing and arranging. For instance, "Precious Love" has a kind of sound and a rhythm that looks towards to Rocksteady and one could believe it's been played by the Soul Vendors themselves and not by the Skatalites. The tracks on the album, 11 instrumentals and "precious love" probably sang by Lord Creator, do not really belong to the most popular Skatalites songs, tho the presence of "Cleopatra" and a few other classics make it a brilliant record after all. To tell the truth, "Precious Love" wasn't even included in the first pressings of the album and Dodd has started putting it on the record later on in other editions (probably from 1988).
In 1970 we find our man in Ocho Rios, working in the local Ruins Hotel as a steady employee. Why and how and together with which musicians he was playing at that time, the forty-years-old Rolando, is not for us to find out.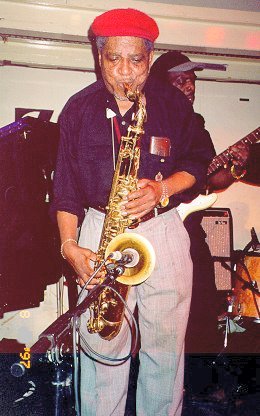 One year later Rolando has a stroke that brought him close to death. After he recuperated, the saxophonist himself told that, while he was in coma, he heard the voice of God telling him that his hour wasn't arrived yet and that he had to complete his mission: gratify people with his extraordinary music. The next year he and his family emigrated to the U.S. Actually, Rolando came out of his illness with a partial paralysis but that did not prevent him from being one of the most requested Jamaican musicians. The next year, 1973, he released his first solo album: "Best of Rolando Alphanso" (yes, Alphanso. That's how his name was written on the album cover. Out for Studio One). The record is a remarkable collection of pieces (12) with both originals and covers. Some of them are in a typical Rocksteady rhythm, while others are in an early reggae style, and that makes me think that those pieces were already existing tracks, over which has been added Rolando's sax. The album was a success and it was followed two years later by the also amazing album "King Sax", also published by Studio One. This record contains tracks like "Hanky Skank", "Big Pa-Pa", "Theme from the Baba" & "Mr. Fashion", pieces that surely are never ever going to bore any of us. Still in 1975 was published Tommy Mc Cook's "Brass Rockers", and maybe following the success of all these records, even the Skatalites record a new album, after 10 years. Produced by bass player Lloyd Brevett and titled "African Roots" (or "Rebirth Skatalites") it wasn't a Ska record but still it was a great album: "soulful" rocksteady, jazzy shades and a particular root-sounded recording and dubbed at King Tubby's studios. Four tracks were mixed by Tubby, the others by Errol Thompson at the Aquarius studios. Actually, the record wasn't supposed to be a Skatalites album but it came out with the band's name only after the record company has bought the recordings. Brevett did sessions for over an year and a half and has been lucky enough to get Rolando and Lester Sterling while they were back in Jamaica for concert appearances to contribute with one tune each. Lloyd Knibb, Johnny Moore , Jackie Mittoo and Jerry Haynes are not on the album and Tommy Mc Cook contributes in just two tunes as well.
In the late seventies, Rolando definitively quits Coxsone to become part of that group of musicians that were recording for Bunny Lee, with whom he already worked in the sixties releasing the hit "Megaton", and finally, in 1982, Rolando releases his third solo album titled "Brighter Shades of Roots".
In the early eighties, Rolando is usually playing between Los Angeles and New York City with a band called "DJ's Choice", with son Noel on drums who did already work with Rolando in his solo album "King Sax".
Still in the early eighties he starts recording for Lloyd Barnes label in New York called "Wackies". In 1984, a collection of the Jamaican Maestro sessions came out as an album titled "Roll On".
One year before, the Skatalites with the "great" line-up including Mittoo on piano, Jerry Haynes on guitar, and Moore on trumpet, played at the "Blue Monk Jazz Gallery" in Kingston for the eighteen anniversary of the band. The same formation plays at Sunsplash festival three weeks later, and later on we'll find the band as supporter for Bunny Wailer's American tour. It's 1989, and the Maestro also flies over to Japan with Mittoo and Sterling for a series of shows with artists such as Lord Tanamo, Bryan Atkinson, Lynn Taitt, David Madden, Calvin Cameron, Gladstone Anderson and Winston Grennan. Before the end of this year, Rolando appears as special guest on the Bim Skala Bim album "Tuba City" with a tune called "Groucho Goes Ska", which is a long and relaxing solo in a powerful Ska rhythm.
At this very point of the article, I would like to remark how Rolando has been such a brilliant and versatile musician, and even tho his name is often connected with the sixties sound and the Studio One label, he has actually never stopped playing and composing during his whole life, contributing with the major artists of the time, over the years.
So, due to his philosophy that brought him to lend his brass wherever he was asked, we find him composing, playing and arranging for loads of other musicians like Prince Buster, King Edward (who can forget his "Pipeline" and "Ska Jazz"?), Victor Chin ("Blow Rolando Blow") and Justin Yap ("Determination", "VC10" aka "Shake a leg", and his own versions of "A Shot In The Dark" and "Caravan" that are probably going to be his best compositions). Every time one can find surprising results just like in the Coxone "Ska Au Go Go" era. Just like if time didn't pass by.
In 1991, the reformed Skatalites toured Europe for the first time receiving a warm welcome by an always enthusiastic audience. The obvious next step was to go back in studio again for the first time since 1984, when the Skatalites recorded the amazing "Return of the big guns" at the Dynamic Studios in Jamaica for Island Records and now available only at the Skatalites web site.
In 1993 the Skatalites released for the well known reggae label Shanachie an album titled "Skavoovee" finally full of new compositions, but to our astonishment, Alphonso is not in it, although he appears on the picture on the record sleeve. The reason why Alphonso is not on the album is because of a Tommy Mc Cook's decision not to use him on what were supposed to be only Tommy's sessions. In fact, the deal with Shanachie was done between Tommy Mc Cook and the record label and not with the whole band.
Alphonso reappears on the next Skatalites album, one year later. The album was titled "hi bop Ska" and was Skatalites thirtieth anniversary album. The record, that even got a Grammy Awards nomination, emanates unleashed energy. Alphonso is magnificent in all his characteristics, with "cooling" solos, and is the author of "Everlasting Sound", a beautiful Ska-burru which is probably considered the best instrumental on the album.
Afterwards, in the same year, Alphonso records with Joey Altruda and his "Jump with Joey". The result is a new album titled "Roland Plays Ska Strictly For You, vol. 2", a title that reminds of an old Studio One album. In 1995, Roland records 3 tracks in Japanese band "the Skaflames" (one of the best Ska bands in the world) new album called "Damn Good" (no title could have been more appropriate!). Still in 1995, Alphonso participates in two instrumental tracks on the first album by New York based "Stubborn Allstars" called "Open season".
At the beginning of 1996 he appears as guest in his friend's Ernest Ranglin album "Below the Bass Line". Here he plays tenor and soprano saxophone in a very jazzy version of "Ball of Fire".

Such an intense activity makes me wonder how could this man, by now 60 years old, bear all kind of difficulties travelling far and wide and touring across different nations, not as a tourist but for long intensive mega-tours. Just add that this "mister magical" wasn't able to move in an agile way since quite many years, since his illness. Despite the fact that he had to walk in very short steps, he equally got on and off busses, planes, stages, bearing loud music, smoky and uncomfortable places, long hours, etc, etc; and watching at his serene smile and his eyes bursting with great joy, you would never see a single sign of tiredness. Then, when he gets up the stage comes another magic, with Rolando moving and blowing his saxophone with unbelievable agility.
At last, the proper tribute to the great sax king and to the Skatalites is paid, professionally and musically speaking as well.
Rolando meets the Skatalites again in 1996 for the making of the new album "greetings from Skamania", which will receive another Grammy Awards nomination as the best reggae album of the year. The record is another great collection of high quality Ska music in which Rolando re-proposes the mighty "El Pussycat" and his own masterpiece "Phoenix City".
In 1997 Alphonso is still blowing and we'll find him in the "Tricia and the Supersonics" CD, released by the NYC Ska label "Moon Records", and featuring Tricia Grant, miss Jamaica 1996, supported by the Skatalites. The album, with his son Noel on drums, Brevett on bass, Devon James on guitar, Lester Sterling on alto sax, Bill Smith on keyboard and Doreen Shaffer on backing vocals, shows Alphonso in great shape and more Skaing than ever and delights us on every single track coming up with that typical raising upbeat of his tenor and including short thoughts during each track.

At the end of the story, as far as we know on the present day, in 1997 comes the last Skatalites record, titled "Ball Of Fire", recorded in march and released by Island Records as part of the celebrations for the fortieth anniversary of the British label. Unfortunately, Tommy Mc Cook is missing on this album as he had left the band in 1986 due to dispute on the group management. Therefore, placed by Alphonso's side, are Breedlove and Clark as trumpet and trombone players and Lester Sterling on alto sax.

In each of the ten tracks on the album, Rolando rides his sax through amazing solos sliding over the perfect rhythms of Knibb and Brevett. In the album, from "Ball of Fire" to "Confucius", from "James Bond" to "Rock Fort Rock" the Skatalites take us through a journey across ten years of revolution from Ska to Reggae.
Struck by a stroke during a Skatalites show on the 2nd of November of 1998, the "Chief Musician" dies on the 20th leaving a numerous and beloved family as well as an incredible number of fans all around the world, who were and will always be, delighted and rewarded by his music.
"Mission accomplished, now you can rest" a voice would whisper to Roland.