TOMMY MCCOOK
(The Tenor Titan)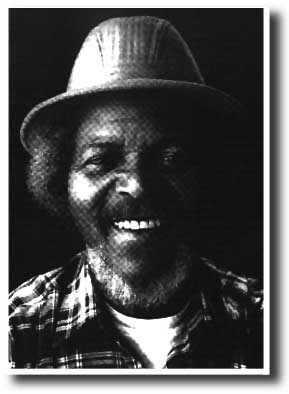 The 'Tenor Titan' Tommy McCook left us late on May 5 1998, expiring from heart failure that followed pneumonia which came quickly after a hospitalization for a sinus infection.

Tommy was born on the 3rd of March, seventy-one years ago in Havana, on the island of Cuba.
He was there with his mother, brother and sister to be close to Panama, where his father was working.
This was because Panama canal workers were not allowed to bring their families, McCook explained.
In 1933 Tommy come back to Jamaica with his mother Ivy, brother Frank and sister Inez, and the family settled in East Kingston.
While on a visit to see his brother who was attending the Alpha Catholic School for Boys, Tommy heard and saw the band rehearsing. He decided then and there that he too would like to go to Alpha and also that he wanted to be in the band.
His fascination for music began when he visited his mother at the Bournemouth Beach Club, where she worked.
Bournemouth was in East Kingston, not far from the family's residence on Slipdock Road. There Tommy was able to watch the bands rehearse. His mother, through contacts made at Bournemouth, managed to get in touch with Mr. George Neilson, who was the bandmaster at the Alpha School, and inquired about whether there could be a place for Tommy in the band. "I was 11 when I started, and it was on tenor sax. Mr. Neilson said they needed a sax player and I jumped in. I took over the school sax and sat next to Bra [Wilton] Gaynair when the band rehearsed and played", McCook explained.
After McCook had attained a solid musical education at Alpha, the noted bandleader Eric Deans, who regularly creamed the graduating classes of Alpha for his Orchestra, come calling and auditioned Tommy, who passed with flying colors.
That was in 1943, when Tommy's 54-year career as a professional musician began with Eric Dean's Orchestra. Deans band was one of Jamaica's best and was stationed at the Bournemouth Club. It was especially nice for Tommy to be able to play in front of his mother, and he told me [Brian Keyo] that one of his most treasured moments as a musician was taking his first solo as a professional with his mom watching. He told me of how he closed his eyes and followed the progression of the melody during his solo, and as he was finishing, he heard applause from the crowd and opened his eyes to see tears of joy on his mother's face.

After leaving Deans band, McCook and trumpeter Raymond Harper joined Don
Hitchman's sextet.
Hitchman was an excellent guitarist and as a member of his group, McCook became one of the first Jamaican musicians to make a recording, reportedly in 1953, though Tommy thought '52. That happened at the first radio station in Jamaica, Z or Zed QI. Archie Lindo extended the invitation to Hitchman so that station personnel could test their new recording equipment. What they recorded was immediately pressed on soft wax and McCook recalled that the tunes were played back to the band within ten or so minutes after the recording.

In 1954, Tommy was invited to go to Nassau to play at the Zanzibar Club. He agreed and went along with Ernest Ranglin, trumpeter Frank Anderson, pianist Linton Thomas and others. After the Zanzibar gig ended in '55, and some of the band went back to Jamaica, Tommy stayed on, playing in small groups at parties and then on a private yacht. That's how he first went to the US, Miami, in 1956. That's also when Tommy first heard John Coltrane, which he told me, "changed my life and how I played the saxophone".
Jazz became Tommy's focus after that and by the time he left Nassau for Jamaica in 1962, "I had decided that I was gonna play only Jazz".
Arriving in Jamaica a few months into '62, Tommy formed a little combo and played Jazz. "We were playing shots by Coltrane, 'I Love You', 'But Not For Me', and others, he related.
This was when Tommy was first being approached to record by Clement 'Coxson' Dodd. Next was Vincent 'Randy' (VP) Chin. "I just said no thank you", McCook told me.
Eventually, Tommy consented to do a Jazz session in late '62, later released as the Jazz Jamaica LP.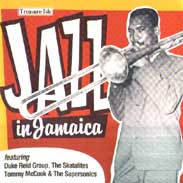 Soon after he began to be wooed to lead a band by Lloyd Knibb, whom he had known from visits to Count Ossie's yard in his home area of East Kingston. "Count" Ossie Williams led a group of rasta drummers who still play the African-derived drum based music so fundamental to the history of Jamaican music. Count Ossie and his Mystic Revalation of Rastafari group can be heard on many recordings, including early hits such as "Oh Carolina" from 1962.)

Knibb used to check McCook's gig with Aubrey Adams group at the Courtleigh Manor hotel, and then drive him home. As they'd drive east, Knibb would reason with McCook that as the potential band members were the ones making most of the studio recordings, as soon as the public could hear them together live, they could become the biggest band in Jamaica.
When McCook eventually agreed to lead the band, it was after he had acceded to Coxson Dodd's overtures, and recorded his first tune with most of the men who would become the Skatalites almost a year later. That tune was "Exodus".
The Skatalites formed in June of 1964 and, performing as Tommy McCook and
The Skatalites, they played around the whole of Jamaica, although they were
essentially based in East Kingston at the Bournemouth Club.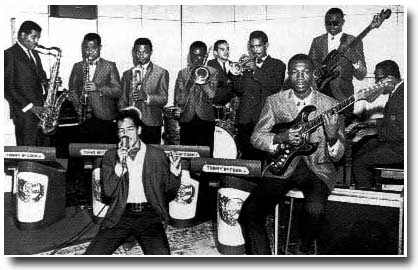 The Skatalites made several hundred recordings and backed the best of Jamaica's vocalists on hundreds of others. But various pressures, including Don Drummond murder of his girlfriend Marguerita Mahfood, contributed to the band's demise by the fall of 1965.

In the aftermath, McCook took an offer from producer Arthur 'Duke' Reid to become the Musical Director for his labels. Within a few months, Tommy was ensconced in the new, state of the art Treasure Isle Studio that Reid built atop his liquor store at the corner of Bond and Charles in Kingston.
At that time McCook put life into, and his name onto, a new group called "The Supersonics". The Supersonics, along with the also mighty Lynn Tait and The Jets, were among the first to be proficient in the new Rocksteady sound that evolved by 1966.
For sure, it can't be denied that the velvety phrasing of Tommy McCook had a great influence in, if we can speak with those terms, "tranquilizing" the Ska rhythm.
The saxophone sound is almost never aggressive, the notes are smooth.

Listening with some good headphones, to McCook's solos on Supersonics' instrumentals on the Treasure Isle label such as "Down On Bown Street" and "Jam Session" the impression is that, from the highness of his potent stature McCook is telling you a solar poetry of palms, sunsets on the sea, life lived on the beach.
Tommy's genius is widely recognized on the Island, and the Supersonics are, as the Skatalites before, one of the most famous, and most able groups Jamaica has produced.
Treasure Island productions have a unique sound which is best exemplified in Rock Steady recordings, most of which were arranged by bandleader of the Supersonics and Musical Director of the studio, Tommy McCook.
Sometime the Supersonics sound, at first carefree and charming, transforms itself, thanks to some wild Winston Wright keyboard or a Hux Brown guitar solo, to a Funky-soul which seems to come from Memphis. This is all sustained by the heavy, heavy bassline of "Jackie" Jackson.

For one delighted and captivated with the Supersonic's vibes and melodies on instrumentals, there's better availability of material which features Tommy and his Supersonics backing vocalists and groups.
However, we can recommend on the HeartBeat label, the CD called "Run Rhythm Run". A 1996 release with solid selection of 18 cuts ranging from '66 to '72. The absolutely-not-to-loose track are the famous "Macca Bacca", "Psychedelic Reggae" and "Stealing Stealing", which is being used currently in Jamaica by producer Fatis Burrell. Fatis has produced and enjoyed hits with the singer Luciano's excellent "Ulterior Motives" and the DJ Sizzla's "Dem A Try A Ting".

All the most famous Rocksteady vocal talents sang over Treasure Isle rhythms orchestrated and arranged mainly by Tommy itself. Wonderful work with The Techniques, The Melodians, The Gladiators, The Sensations, The Paragons, The Silvertones, The Jamaicans, The Ethiopians, The Renegades, Justin Hinds & The Dominoes, the superlative Phyllis Dillon, the sublime Girl Satchmo and man like Alton Ellis, Hopeton Lewis, Ken Parker, and John Holt made the Duke's Treasure Isle the top Jamaican studio during the Rocksteady epoch.

Maestro McCook must be considered the driving force behind Treasure Isle's preeminence throughout Rock Steady and into the Reggae period from 1969 and on.
Tommy is the only session musician who was able to sustain a career as a band master. Since he returned to Jamaica in 1962 until the time of his death, he was the leader of the band.
McCook led the band at Treasure Isle until the death of Duke Reid in September of 1976 from cancer.
In addition to his work at Treasure Isle, McCook freelanced for younger producers such as Joe Gibbs, Winston Riley, Glen Brown, Harry Mudie, Gussie Clarke, Clive Chin, Jimmy Radway, Herman Chin-Loy, and Bob Marley. McCook and Ansel Collins combined to deliver "Stalag 17" for Riley, and Tommy blew killers like "Dirty Harry" and "Determination Skank" for Brown. McCook also arranged and blew on Bob Marley's first solo production, "Lively Up Yourself", in 1971, with Tommy's "Live" on the B-side, and on "Screwface", with Tommy's "Faceman" on the B-side".
A trip to England with Jimmy Cliff's band in 1973 for a BBC special on Cliff, led to a meeting with Jazz artist Herbie Mann. Mann engaged McCook to put together a band to make a Jazz LP of Reggae rhythms. Tommy accepted the challenge and put together the band that cut Mann's album Reggae, which sold in excess of a million copies, according to Tommy.
In 1975, the Jamaican Government recognized the contributions of Thomas McCook to the nations musical heritage by awarding him the "Order of Distinction".

Between '68 and '78 Tommy works at all the most important Jamaican studios.
He worked for Lee Perry (for which he was never paid), for Bunny Lee as a featured member of his Aggrovators backing band. For the Hookim brothers at Maxfield Avenue's Channel One Studio with the Revolutionairies, that is Sly Dunbar, Ansell Collins, Ranchie Mclean etc.
He also cut records with trumpet players such as Bobby Ellis and Dizzy Moore, and as a soloist on instrumental LP's such as "Cooking" (1974), Brass Rockers (1975), Hot Lava (1977) and Blazing Horns (1978).
Tommy blew mostly sax on the many mid seventies instrumentals he led though he also recorded several LP's worth of flute versions.

In the early eighties, McCook played on several LP's recorded by the Nighthawk label and then became involved with Synergy, the founders of Sunsplash, in trying to re-form the Skatalites to perform at the 1983 Splash. In the summer of that year he played with the rest of the original 1964 line-up at the Blue Monk Jazz Gallery in Kingston for a wonderful three night stand that was a quite a reunion.
In the years after The Skatalites broke up in 1965, they had never all been present on any session, but some played in 1974 on an album which has been released at least five times now, with several titles, including "African Roots" and "The Rebirth of the Skatalites (It is not a Skatalites LP, but does feature the playing and arranging of Tommy McCook on one track, "Jumbo Malt").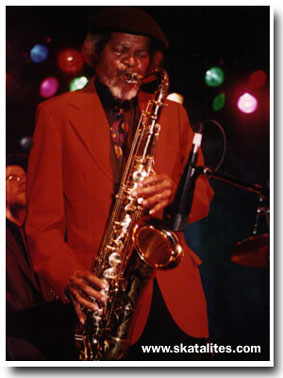 The 1983 shows and rehearsals at the Blue Monk were recorded by Herbie Miller, the club owner, who saw fit to release the rehearsals on the US ROIR label and the shows on a Japanese label.
Recently ROIR has re-released the rehearsals with five more tracks.
Skatalites.com will soon post infomation about the sessions and some answers from Herbie Miller as to why the band only received an initial payment for the release.
The playing is loose and sloppy, as befits a rehearsal, but the most telling item missing from the rhythmic stew might be the steady, honking baritone sax of the one Dennis 'Ska' Campbell.
Campbell, for "non insider", is the man behind that unceasing saxophone which croaks "Ska Ska Ska" throughout most every Skatalites recording.
Try listening to 'Dick Tracy' or even the Wailers "Simmer Down" and I'm sure you'll hear what we mean.

From 1983 on, vertiginous musical activity enveloped The Skatalites and propelled them in orbit around the globe. Numerous tours of the US and Europe, annual jaunts to Japan, homecoming shows at the National Stadium in Jamaica and even a swing to the Indian Ocean island of Reunion, all are handled with aplomb by the originators of Ska music, out to claim what is their richly deserved due.
They've also worked with many artists whom they help make names for back in the sixties, including Prince Buster, Laurel Aitken, Desmond Dekker, Toots Hibbert, Justin Hinds, Doreen Shaffer, Lord Tanamo, and Lynn Taitt.
Meanwhile, the guitar player Jah Jerry in 1986, being one of the oldest and having as the latest professional activity behind some tracks in the Rico Rodriguez 1980 album "That Man Is Forward" and being probably in bad condition, retired to Jamaica, making space for guitarist Devon James. A veteran of the North Coast hotel circuit in Jamaica and an old 'spar' of Lloyd Knibb from the band Teddy Greaves and The Groovy Guys.

In 1989 the Skatalites 'exploded' when they opened shows for Bunny Wailer on his
"Liberation" tour. The band was mobbed by teenagers in California who couldn't believe the sounds they heard.
In 1993, with several guests, the Skatalites recorded "Skavoovee" which eventually saw release on Shanachie, an American label.
The CD is mostly Jazz-Ska, played with vigor and potency. There are new tracks, old hits from the past, and some covers. It's all arranged and produced by the inexhaustible Tommy.
Certainly a CD you'll want to posses. Recorded, as usual, in typically direct Skatalites
fashion.
Respecting the sound achieved with Skavoovee, in 1994 Tommy produced the "30th anniversary recording", the excellent "Hi Bop Ska", on the same label and with more special guests. If "Skaoovie" was totally instrumental, "Hi Bop Ska" contains four vocal cuts, two from Doreen Shaffer and one each from Prince Buster and Toots Hibbert (of the Maytals).
For years, the superb "Split Personality" by Toots and the Skatalites has been at the top of my personal Ska hit parade [Sergio].
Also extremely interesting is the track written by Tommy called "Burru Style", which features Lloyd Knibb, and underlines the attachment of this saxophone player, and this drummer, to the ancient rhythms coming from Africa.
The latest McCook recording, a third CD on Shanachie, is titled "Greetings From Skamania" and also features vocals by Doreen Shaffer and more highly animated instrumentals. The arrangements and particularly the adaptations made by Tommy of two Jazz standards, "I Wish You Love" and "Have A Good Time", are brilliant. The last two CD's received Grammy nominations for Best Reggae Recording.

It is my opinion [Sergio] that comparisons between these recordings and what Tommy, and all the other Skatalites, made in the '60 are not valid. The technological evolution doesn't permit it, and common sense doesn't either. Regardless, Tommy McCook music is always splendid. His very recognizable sound undoubtedly had an important role for a period of twenty or so years in Jamaica.
Though he played with different musicians over the years, from The Skatalites with Lloyd Knibb and Lloyd Brevett to The Supersonics with Hugh Malcolm, Jackie Jackson and Vincent "Don Drummond Jr." Gordon on trombone to the Aggravators with Robbie Shakespeare and Santa Davis, the sax of Tommy McCook was accompanied during his fifty year musical career, by all the best musicians that Jamaica has produced.
The sensitivity and the different feelings each musician brought out is what fixes the
difference between the music of one period and the music of another period, even from the same artist.

We will miss Tommy; we will miss him a lot. I feel a sympathy toward Tommy [Sergio], as with the other artists which I never had the pleasure to encounter. Not just for his music, which I adore, and it's keeped in his recordings, but for his face nicely smiling, and because I have the idea, as maybe someone else might who is now reading this, that very high Jamaican gentlemen, was a warm person, someone who writes, in the back sleeve of "Hi-bop Ska", that, after having thanked God for having driven and sustained him through all the years, writes to all his colleagues and friends; "To my loved ones, I say thank you for standing beside me with your Love, Care and Devotion, for without love I am nothing".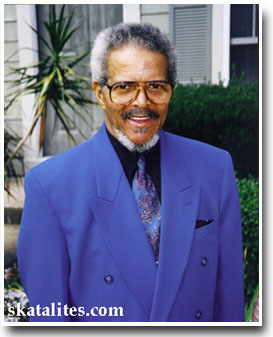 Welcoming him in the Sky, there were Bob and Peter, Jackie Mittoo, Baba Brooks, the Don, "Ska" Campbell, Jackie Opel, Winston Wright, and Count Ossie, to begin the longest Ska and Reggy jam session ever.

Love, love, love and peace, Tommy! from Sergio
Yes, much love to TMac from Brian